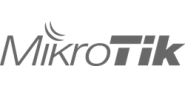 iSolutions is an Authorized Master Distributor of MikroTik
MikroTik is a Latvian company which was founded in 1996 to develop routers and wireless ISP systems. MikroTik now provides hardware and software for Internet connectivity in most of the countries around the world. Our experience in using industry standard PC hardware and complete routing systems allowed us in 1997 to create the RouterOS software system that provides extensive stability, controls, and flexibility for all kinds of data interfaces and routing. In 2002 we decided to make our own hardware, and the RouterBOARD brand was born. We have resellers in most parts of the world, and customers in probably every country on the planet. Our company is located in Riga, the capital city of Latvia and has more than 280 employees.
Whether you are building wireless links across the seas, internet exchanges between countries or secure tunnels between banks – MikroTik can do it all.
• Best price/performance
• Millions of RouterOS powered devices are currently routing the world
• 25 years of developing networking software and hardware
• Over 200'000 RouterOS trained and certified network engineers
• Several thousand training sessions conducted each year
• World wide network of certified consultants
• Offering products that support simple CPEs to complex enterprise networks
• Thousands of pages of documentation, examples, application notes, and guides
Ethernet routers
Switches
Wireless systems
Wireless for home and office
LTE/5G products
RouterBOARD
Ethernet routers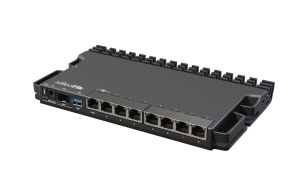 RB5009UG+S+IN mt.lv/p/543
The ultimate heavy-duty home lab router – unprecedented processing power in such a small
form factor.
• Marvell Armada 4-core ARMv8 1.4 GHz CPU
• 1GB of DDR4 RAM and 1GB NAND storage
• 1x 2.5 Gigabit Ethernet, 7x Gigabit Ethernet
• 10G SFP+ cage
• Indoor desktop metal enclosure, that works as a massive heat sink
• Full size USB v3.0
• With the K-79 mounting kit, you can fit four of these new routers in a single 1U rackmount space!
Switches
Wireless systems
Wireless for home and office
LTE/5G products
RouterBOARD
have an inquiry?
Please submit your request via the email form.